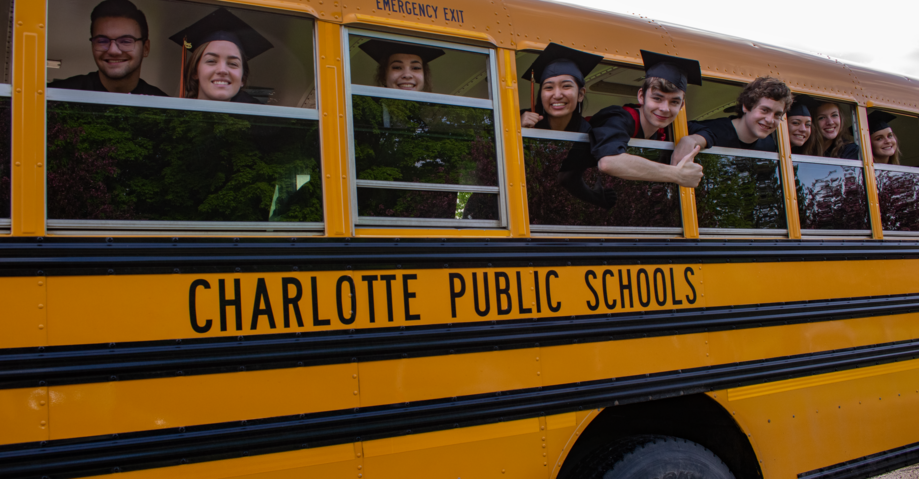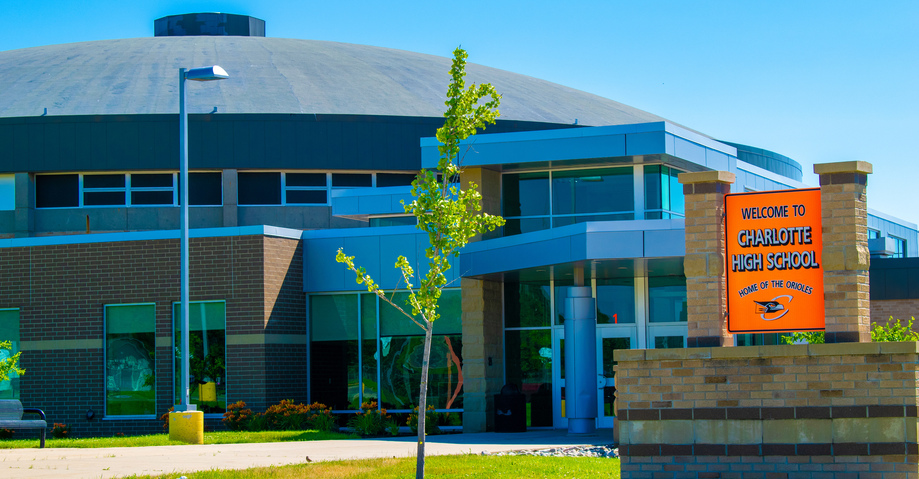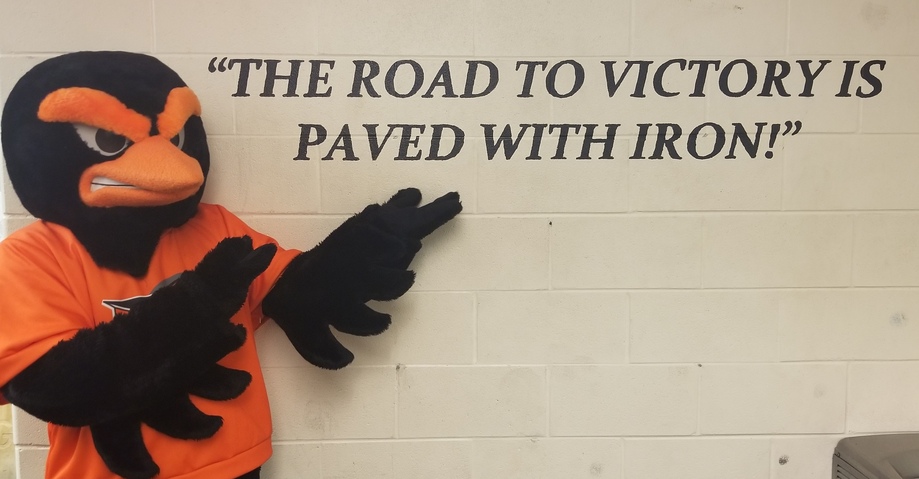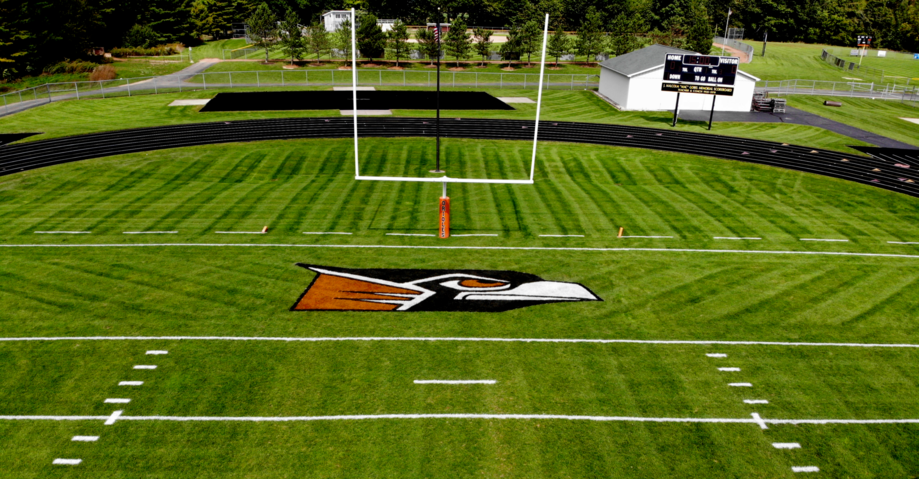 Welcome to

Charlotte High School

We are an innovative, achievement-oriented learning organization that is designed to help students gain the skills they need to succeed while they are here and after they graduate.

We focus heavily on college and career readiness opportunities through innovative partnerships with post-secondary schools, industry, and the community, and we strive to help all students develop and carry out plans for the future.

We show Oriole PRIDE in everything we do; GO ORIOLES!
Charlotte High School

378 State Street

Charlotte

,
MI
48813

517.541.5600

Upcoming Events
Charlotte HS BKB B FR Home Hastings HS

Location:

378 State Street Charlotte, MI 48813

Facility: High School Dome FROM: 3:30 PM TO: 5:30 PM Visit https://orioleathletics.org/main/event/scid/MI4881372944/eventid/74148465 for more information!
CHS Calendar
CHS Calendar

Previous

January

2022

Next

S
M
T
W
T
F
S
1

Jan 1

CPAC Offices Closed

Calendar:

Charlotte Performing Arts Center (CPAC)

No School for Students or Teachers

2

Jan 2

CPAC Offices Closed

Calendar:

Charlotte Performing Arts Center (CPAC)

3

Jan 3

CPAC Offices Closed

Calendar:

Charlotte Performing Arts Center (CPAC)

4

Jan 4

CPAC Offices Closed

Calendar:

Charlotte Performing Arts Center (CPAC)

4:00 PM to 7:00 PM

POSTPONED: Charlotte HS BKB B FR Away Pennfield High School

Visit https://orioleathletics.org/main/event/scid/MI4881372944/eventid/73024616 for more information!

5:30 PM to 8:30 PM

CANCELLED: Charlotte HS BKB G JV Home Waverly High School

Location:

378 State Street Charlotte, MI 48813

Facility: High School Dome FROM: 4:30 PM TO: 7:00 PM Visit https://orioleathletics.org/main/event/scid/MI4881372944/eventid/73320619 for more information!

5:30 PM to 8:30 PM

POSTPONED: Charlotte HS BKB B JV Away Pennfield High School

Visit https://orioleathletics.org/main/event/scid/MI4881372944/eventid/73024615 for more information!

7:00 PM to 10:00 PM

Charlotte HS BKB B V Away Pennfield High School

Visit https://orioleathletics.org/main/event/scid/MI4881372944/eventid/73022968 for more information!

7:00 PM to 10:00 PM

Charlotte HS BKB G V Home Waverly High School

Location:

378 State Street Charlotte, MI 48813

Facility: High School Dome FROM: 7:00 PM TO: 9:00 AM Visit https://orioleathletics.org/main/event/scid/MI4881372944/eventid/73320616 for more information!

5

Jan 5

5:00 PM to 8:00 PM

Charlotte HS WR B V Home CAAC Double Dual vs. Grand Ledge & FH Northern (Senior Night)

Location:

378 State Street Charlotte, MI 48813

Facility: High School Dome FROM: 3:00 PM TO: 9:00 AM Visit https://orioleathletics.org/main/event/scid/MI4881372944/eventid/73505764 for more information!

6

Jan 6

3:00 PM to 4:00 PM

Board of Education Finance Subcommittee Meeting

Location:

Central Administration Offices Boardroom (Door 19)

3:00 PM to 6:00 PM

Charlotte HS BWL B V Away Eaton Rapids High School

Visit https://orioleathletics.org/main/event/scid/MI4881372944/eventid/73876743 for more information!

3:00 PM to 6:00 PM

Charlotte HS BWL G V Away Eaton Rapids High School

Visit https://orioleathletics.org/main/event/scid/MI4881372944/eventid/73876744 for more information!

5:30 PM to 8:30 PM

Charlotte HS BKB B FR Away Ionia High School

Visit https://orioleathletics.org/main/event/scid/MI4881372944/eventid/72946984 for more information!

6:00 PM to 9:00 PM

Charlotte HS SW B V Away Ionia High School

Visit https://orioleathletics.org/main/event/scid/MI4881372944/eventid/73719591 for more information!

7:00 PM to 10:00 PM

Charlotte HS BKB B JV Away Ionia High School

Visit https://orioleathletics.org/main/event/scid/MI4881372944/eventid/72946981 for more information!

7

Jan 7

4:00 PM to 7:00 PM

CANCELLED: Charlotte HS BKB G JV Home Ionia High School

Location:

378 State Street Charlotte, MI 48813

Facility: High School Dome FROM: 3:00 PM TO: 5:30 PM Visit https://orioleathletics.org/main/event/scid/MI4881372944/eventid/72905188 for more information!

5:00 PM to 8:00 PM

Charlotte HS WR B JV Away OPEN (New Lothrop Invitational)

Visit https://orioleathletics.org/main/event/scid/MI4881372944/eventid/73618620 for more information!

5:30 PM to 8:30 PM

Charlotte HS BKB G V Home Ionia High School

Location:

378 State Street Charlotte, MI 48813

Facility: High School Dome FROM: 4:30 PM TO: 9:00 AM Visit https://orioleathletics.org/main/event/scid/MI4881372944/eventid/72905186 for more information!

7:00 PM to 10:00 PM

Charlotte HS BKB B V Home Ionia High School

Location:

378 State Street Charlotte, MI 48813

Facility: High School Dome FROM: 7:00 PM Visit https://orioleathletics.org/main/event/scid/MI4881372944/eventid/72946857 for more information!

8

Jan 8

9:00 AM to 12:00 PM

Charlotte HS WR B V Away OPEN (New Lothrop Invitational)

Visit https://orioleathletics.org/main/event/scid/MI4881372944/eventid/73439779 for more information!

1:00 PM to 4:00 PM

Charlotte HS CHR G V Away Brighton's Best Invitational

Visit https://orioleathletics.org/main/event/scid/MI4881372944/eventid/73526397 for more information!

9
10

Jan 10

6:00 PM to 7:00 PM

Board of Education Meeting

Location:

Charlotte High School Media Center, Enter through Door #19, 378 State Street

11

Jan 11

3:00 PM to 6:00 PM

Charlotte HS BWL B V Home Fowlerville High School

Visit https://orioleathletics.org/main/event/scid/MI4881372944/eventid/73876747 for more information!

12

Jan 12

3:00 PM to 6:00 PM

Charlotte HS BWL B V Away Fowlerville High School

Visit https://orioleathletics.org/main/event/scid/MI4881372944/eventid/73887181 for more information!

3:00 PM to 6:00 PM

Charlotte HS BWL G V Away Fowlerville High School

Visit https://orioleathletics.org/main/event/scid/MI4881372944/eventid/73887184 for more information!

6:00 PM to 9:00 PM

Charlotte HS WR B V Away CAAC Double Dual vs. Portland & Everett @ Portland

Visit https://orioleathletics.org/main/event/scid/MI4881372944/eventid/73505782 for more information!

13

Jan 13

5:30 PM to 8:30 PM

Charlotte HS BKB B FR Away Eaton Rapids High School

Visit https://orioleathletics.org/main/event/scid/MI4881372944/eventid/72946995 for more information!

6:00 PM to 9:00 PM

Charlotte HS CHR G V Away Shepherd High School Invitational

Visit https://orioleathletics.org/main/event/scid/MI4881372944/eventid/73526400 for more information!

6:00 PM to 9:00 PM

Charlotte HS SW B V Home Eaton Rapids High School

Location:

1068 Carlisle Hwy Charlotte, MI 48813

Facility: Pool FROM: 4:00 PM TO: 9:00 AM Visit https://orioleathletics.org/main/event/scid/MI4881372944/eventid/73719607 for more information!

7:00 PM to 10:00 PM

Charlotte HS BKB B JV Away Eaton Rapids High School

Visit https://orioleathletics.org/main/event/scid/MI4881372944/eventid/72946994 for more information!

14

Jan 14

2 Hour Early Release Day All Students

4:00 PM to 7:00 PM

Charlotte HS BKB G JV Home Eaton Rapids High School

Location:

378 State Street Charlotte, MI 48813

Facility: High School Dome FROM: 3:00 PM TO: 5:30 PM Visit https://orioleathletics.org/main/event/scid/MI4881372944/eventid/72905210 for more information!

5:00 PM to 8:00 PM

Charlotte HS WR B JV Away Laingsburg High School Invitational

Visit https://orioleathletics.org/main/event/scid/MI4881372944/eventid/73618647 for more information!

5:30 PM to 8:30 PM

Charlotte HS BKB G V Home Eaton Rapids High School

Location:

378 State Street Charlotte, MI 48813

Facility: High School Dome FROM: 4:30 PM TO: 9:00 AM Visit https://orioleathletics.org/main/event/scid/MI4881372944/eventid/72905207 for more information!

7:00 PM to 10:00 PM

Charlotte HS BKB B V Home Eaton Rapids High School

Location:

378 State Street Charlotte, MI 48813

Facility: High School Dome FROM: 7:00 PM Visit https://orioleathletics.org/main/event/scid/MI4881372944/eventid/72946867 for more information!

15

Jan 15

9:00 AM to 12:00 PM

Charlotte HS WR B V Away Williamston Jim Mooney Invitational

Visit https://orioleathletics.org/main/event/scid/MI4881372944/eventid/73508524 for more information!

1:00 PM to 4:00 PM

Charlotte HS CHR G V Away Jackson Northwest Invitational

Visit https://orioleathletics.org/main/event/scid/MI4881372944/eventid/73895450 for more information!

16

Jan 16

12:00 AM to 3:00 AM

Time: TBA -Charlotte HS BWL B V Away Mason Invitational

Visit https://orioleathletics.org/main/event/scid/MI4881372944/eventid/73876769 for more information!

12:00 AM to 3:00 AM

Time: TBA -Charlotte HS BWL G V Away Mason Invitational

Visit https://orioleathletics.org/main/event/scid/MI4881372944/eventid/73876775 for more information!

17

Jan 17

2 Hour Early Release Day All Students

Martin Luther King, Jr. Day

18

Jan 18

3:00 PM to 6:00 PM

Charlotte HS BWL B V Home Mason HS (Mason)

Visit https://orioleathletics.org/main/event/scid/MI4881372944/eventid/73876779 for more information!

3:00 PM to 6:00 PM

Charlotte HS BWL G V Home Mason HS (Mason)

Visit https://orioleathletics.org/main/event/scid/MI4881372944/eventid/73876780 for more information!

4:00 PM to 7:00 PM

Charlotte HS BKB B FR Home Loy Norrix HS

Location:

378 State Street Charlotte, MI 48813

Facility: High School Dome FROM: 3:00 PM TO: 5:30 PM Visit https://orioleathletics.org/main/event/scid/MI4881372944/eventid/73022892 for more information!

5:30 PM to 8:30 PM

Charlotte HS BKB B JV Home Loy Norrix HS

Location:

378 State Street Charlotte, MI 48813

Facility: High School Dome FROM: 5:30 PM TO: 7:00 PM Visit https://orioleathletics.org/main/event/scid/MI4881372944/eventid/73022891 for more information!

5:30 PM to 8:30 PM

Charlotte HS BKB G JV Away Mason HS (Mason)

Visit https://orioleathletics.org/main/event/scid/MI4881372944/eventid/73224048 for more information!

7:00 PM to 10:00 PM

Charlotte HS BKB B V Home Loy Norrix HS

Location:

378 State Street Charlotte, MI 48813

Facility: High School Dome FROM: 7:00 PM Visit https://orioleathletics.org/main/event/scid/MI4881372944/eventid/73022890 for more information!

7:00 PM to 10:00 PM

Charlotte HS BKB G V Away Mason HS (Mason)

Visit https://orioleathletics.org/main/event/scid/MI4881372944/eventid/73224045 for more information!

19

Jan 19

5:00 PM to 8:00 PM

Charlotte HS WR B V Away CAAC Double Dual vs. ER & St. Johns @ ER

Visit https://orioleathletics.org/main/event/scid/MI4881372944/eventid/73505838 for more information!

6:00 PM to 9:00 PM

Charlotte HS CHR G V Home C.A.A.C. Meet #1

Location:

1068 Carlisle Hwy Charlotte, MI 48813

Facility: CMS Main Gym FROM: 3:00 PM TO: 10:00 AM Visit https://orioleathletics.org/main/event/scid/MI4881372944/eventid/73348322 for more information!

20

Jan 20

3:30 PM to 6:30 PM

Charlotte HS BWL B V Away Lansing Catholic High School

Visit https://orioleathletics.org/main/event/scid/MI4881372944/eventid/73876788 for more information!

3:30 PM to 6:30 PM

Charlotte HS BWL G V Away Lansing Catholic High School

Visit https://orioleathletics.org/main/event/scid/MI4881372944/eventid/73876789 for more information!

5:30 PM to 8:30 PM

CANCELLED: Charlotte HS BKB B FR Home Lansing Sexton H.S.

Location:

378 State Street Charlotte, MI 48813

Facility: High School Dome FROM: 5:30 PM TO: 7:00 PM Visit https://orioleathletics.org/main/event/scid/MI4881372944/eventid/72947006 for more information!

6:00 PM to 9:00 PM

Charlotte HS SW B V Home OPEN (Lansing United)

Location:

1068 Carlisle Hwy Charlotte, MI 48813

Facility: Pool FROM: 4:00 PM TO: 9:00 AM Visit https://orioleathletics.org/main/event/scid/MI4881372944/eventid/73719672 for more information!

7:00 PM to 8:00 PM

CUE Band Concert

Location:

CHS CAFETERIA, CPAC Auditorium, CPAC BAND ROOM, and CPAC LOBBY (High School and Performing Arts Buil

Calendar:

Charlotte Performing Arts Center (CPAC)

http://charlotte.gofmx.com/scheduling/requests/2234066/occurrences/5293937

7:00 PM to 10:00 PM

Charlotte HS BKB B JV Home Lansing Sexton H.S.

Location:

378 State Street Charlotte, MI 48813

Facility: High School Dome FROM: 7:00 PM TO: 9:30 AM Visit https://orioleathletics.org/main/event/scid/MI4881372944/eventid/72947003 for more information!

21

Jan 21

4:00 PM to 7:00 PM

CANCELLED: Charlotte HS BKB G JV Away Lansing Sexton H.S.

Visit https://orioleathletics.org/main/event/scid/MI4881372944/eventid/72905240 for more information!

4:00 PM to 7:00 PM

Charlotte HS WR B JV Away Lakewood High School Invitational

Visit https://orioleathletics.org/main/event/scid/MI4881372944/eventid/74140399 for more information!

4:00 PM to 7:00 PM

Charlotte HS WR B V Away Lakewood High School Invitational

Visit https://orioleathletics.org/main/event/scid/MI4881372944/eventid/74140394 for more information!

5:30 PM to 8:30 PM

Charlotte HS BKB G V Away Lansing Sexton H.S.

Visit https://orioleathletics.org/main/event/scid/MI4881372944/eventid/72905238 for more information!

7:00 PM to 10:00 PM

Charlotte HS BKB B V Away Lansing Sexton H.S.

Visit https://orioleathletics.org/main/event/scid/MI4881372944/eventid/72946875 for more information!

22

Jan 22

12:00 AM to 3:00 AM

Time: TBA -Charlotte HS BWL G V Away Mel Wolfe Invitational @ TBA

Visit https://orioleathletics.org/main/event/scid/MI4881372944/eventid/73876850 for more information!

12:00 AM to 3:00 AM

Time: TBA -Charlotte HS CHR G V Away Maple Valley Invitational

Visit https://orioleathletics.org/main/event/scid/MI4881372944/eventid/73895463 for more information!

12:00 AM to 3:00 AM

Time: TBA -Charlotte HS SW B V Away Haslett High School Invitational

Visit https://orioleathletics.org/main/event/scid/MI4881372944/eventid/73865610 for more information!

8:30 AM to 11:30 AM

POSTPONED: Charlotte HS WR B JV Away Lakewood High School Invitational

Visit https://orioleathletics.org/main/event/scid/MI4881372944/eventid/73618678 for more information!

8:30 AM to 11:30 AM

POSTPONED: Charlotte HS WR B V Away Lakewood High School Invitational

Visit https://orioleathletics.org/main/event/scid/MI4881372944/eventid/73618573 for more information!

23

Jan 23

12:00 AM to 3:00 AM

Time: TBA -Charlotte HS BWL B V Away Mel Wolfe Invitational @ TBA

Visit https://orioleathletics.org/main/event/scid/MI4881372944/eventid/73876836 for more information!

24

Jan 24

6:00 PM to 7:00 PM

Board of Education Meeting

Location:

Charlotte High School Media Center, Enter through Door #19, 378 State Street

25

Jan 25

3:00 PM to 6:00 PM

Charlotte HS BWL B V Home Eaton Rapids High School

Visit https://orioleathletics.org/main/event/scid/MI4881372944/eventid/73876889 for more information!

3:00 PM to 6:00 PM

Charlotte HS BWL G V Home Eaton Rapids High School

Visit https://orioleathletics.org/main/event/scid/MI4881372944/eventid/73876890 for more information!

5:30 PM to 8:30 PM

Charlotte HS BKB G JV Home Covenant Christian High School

Location:

378 State Street Charlotte, MI 48813

Facility: High School Dome FROM: 4:30 PM TO: 7:00 PM Visit https://orioleathletics.org/main/event/scid/MI4881372944/eventid/73371398 for more information!

7:00 PM to 10:00 PM

Charlotte HS BKB G V Home Covenant Christian High School

Location:

378 State Street Charlotte, MI 48813

Facility: High School Dome FROM: 7:00 PM TO: 9:00 AM Visit https://orioleathletics.org/main/event/scid/MI4881372944/eventid/73371397 for more information!

26

Jan 26

4:00 PM to 7:00 PM

Charlotte HS BKB B FR Home Hastings HS

Location:

378 State Street Charlotte, MI 48813

Facility: High School Dome FROM: 3:30 PM TO: 5:30 PM Visit https://orioleathletics.org/main/event/scid/MI4881372944/eventid/74148465 for more information!

5:00 PM to 8:00 PM

Charlotte HS WR B V Away CAAC Double Dual vs. Sexton & Okemos @ Everett

Visit https://orioleathletics.org/main/event/scid/MI4881372944/eventid/73505908 for more information!

5:30 PM to 8:30 PM

Charlotte HS BKB B JV Home Hastings HS

Location:

378 State Street Charlotte, MI 48813

Facility: High School Dome FROM: 5:30 PM TO: 7:00 PM Visit https://orioleathletics.org/main/event/scid/MI4881372944/eventid/74148464 for more information!

7:00 PM to 10:00 PM

Charlotte HS BKB B V Home Hastings HS

Location:

378 State Street Charlotte, MI 48813

Facility: High School Dome FROM: 7:00 PM TO: 9:00 AM Visit https://orioleathletics.org/main/event/scid/MI4881372944/eventid/74148463 for more information!

27

Jan 27

3:00 PM to 6:00 PM

Charlotte HS BWL B V Away Haslett High School

Visit https://orioleathletics.org/main/event/scid/MI4881372944/eventid/73876904 for more information!

3:00 PM to 6:00 PM

Charlotte HS BWL G V Away Haslett High School

Visit https://orioleathletics.org/main/event/scid/MI4881372944/eventid/73876906 for more information!

4:00 PM to 7:00 PM

Charlotte HS BKB B JV Away Portland High School

Visit https://orioleathletics.org/main/event/scid/MI4881372944/eventid/72947031 for more information!

5:30 PM to 8:30 PM

Charlotte HS BKB B FR Away Portland High School

Visit https://orioleathletics.org/main/event/scid/MI4881372944/eventid/72947033 for more information!

6:00 PM to 9:00 PM

Charlotte HS SW B V Away Waverly High School

Visit https://orioleathletics.org/main/event/scid/MI4881372944/eventid/73719693 for more information!

28

Jan 28

4:00 PM to 7:00 PM

Charlotte HS BKB G JV Home Portland High School

Location:

378 State Street Charlotte, MI 48813

Facility: High School Dome FROM: 3:00 PM TO: 5:30 PM Visit https://orioleathletics.org/main/event/scid/MI4881372944/eventid/72905269 for more information!

5:30 PM to 8:30 PM

Charlotte HS BKB G V Home Portland High School

Location:

378 State Street Charlotte, MI 48813

Facility: High School Dome FROM: 5:30 PM TO: 7:00 PM Visit https://orioleathletics.org/main/event/scid/MI4881372944/eventid/72905266 for more information!

7:00 PM to 10:00 PM

Charlotte HS BKB B V Home Portland High School

Location:

378 State Street Charlotte, MI 48813

Facility: High School Dome FROM: 7:00 PM TO: 9:30 AM Visit https://orioleathletics.org/main/event/scid/MI4881372944/eventid/72946883 for more information!

29

Jan 29

12:00 AM to 3:00 AM

Time: TBA -CANCELLED: Charlotte HS CHR G V Away Owosso Invitational

Visit https://orioleathletics.org/main/event/scid/MI4881372944/eventid/73895478 for more information!

9:00 AM to 12:00 PM

Charlotte HS WR B V Home Barrus Invitational

Location:

378 State Street Charlotte, MI 48813

Facility: High School Dome FROM: 7:30 AM TO: 5:00 PM Visit https://orioleathletics.org/main/event/scid/MI4881372944/eventid/72955196 for more information!

30
31