Office of the Superintendent
What a year it has been!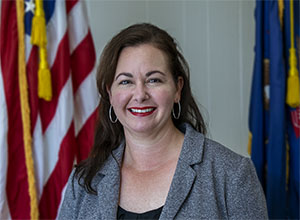 As we pass the one year anniversary of the COVID 19 pandemic, I have been reflecting on all of the plans, decisions, and challenges we have been through in our community. I appreciate all of the support that has been given to Charlotte Public Schools, and I hope that it is visible how much we want to help all of our families in Charlotte!
When I think of what has been accomplished in the last year, there is a lot to remember. Our first shift to virtual, connecting devices and hard copy materials to students, while still trying to find ways to celebrate our students virtually. Expanding our food programs with drive through meals, increased summer drop off points, the Bird Feeder food pantry and USDA food boxes for families, to help through these hard times. The Senior events planned by CHS and our devoted parents: virtual graduation, Senior yard signs, and the "Adopt a Senior" program. To close the virtual academic slide, we added extended summer programming with Kids Read Now, GRASP, and SAT preparation programs at no cost to our students.
While we had hoped for a return to "normal" for the 20-21 school year, more adaptations had to be made, from cleaning plans/supplies, training for our staff for virtual programming, and ultimately listening to our community and offering two different modes of instruction so that families could make the choices needed for their children. While this was a very stressful time for our staff, with much anticipation about learning a whole new way of providing instruction, while working hard to adapt to increased safety precautions, we can look back with pride at our efforts. I have seen virtual teachers making connections with students, and offering emotional, as well as academic supports. When you walk into the buildings, you can still hear the happy voices of children, even with masks on, and the teachers have found innovative ways to incorporate safety procedures along with academic instruction.
The Fall brought about the successful passage of our 2020 Bond, and the community supported our various district improvements, from technology enhancements to needed building updates. This will have long term positive effects on our community, because as we make obvious upgrades to our facilities, we improve the student experience at Charlotte Public Schools, and potentially bring more families to our wonderful community. I am looking forward to the first phase of projects, with new tennis courts, an Agricultural Learning Center, and the removal of the portable classrooms, among other projects.
Charlotte Public Schools also offered brand new programs in our district, with our diversity work with the RACE (Raising up All Cultures to Excel) Journey and our upcoming summer programming options for K-12th grade. I know that I am leaving out many changes, programs, and improvements, because of the enormity of the work that happens with our devoted staff at CPS. I believe we can be proud of what we have accomplished, and I am happy to recognize everyone's efforts during this last year. Thank you for all of your continued support.
Go Orioles! Oriole Pride!
Mandy Stewart, Ph.D.
Superintendent of Schools