Office of the Superintendent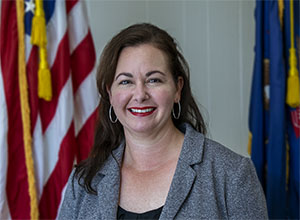 "There cannot be ups in the roller coaster ride of life unless there are downs."
"Life is like a roller coaster--it has its ups and downs, but in the end you have smiles because you know ... you did it."
These two quotes really struck me as we closed out the 2020-21 school year. They also reinforced why I have never been more proud to be part of Charlotte Public Schools or the Charlotte community.
When COVID-19 continued to upend plans and challenge us all, it also showed us that Oriole Pride is more than a saying. It is a "Can Do" commitment and it is all about collaboration. Specifically, the pandemic underscored two key things for me:
How important it is for the district to listen, to work together and to adapt to meet the needs of community, families and students; and that Education is a priority for Charlotte and CPS serves as a critical service organization and connector.
That black and orange in our DNA allowed Charlotte to be one of very few school districts in our region to offer either virtual or face-to-face learning instruction from the beginning so families could choose the option that felt and worked best for them.
Our teachers, support staff and administrators, custodial and maintenance team, food service workers, and bus drivers all stepped up in ways big and small to navigate the uncertainty and changing circumstances. Whether helping keep students safe, building relationships, providing needed meals, or stimulating their minds.
Our families were instrumental as they simultaneously dealt with a myriad of issues and juggled remote work, job loss, remembering equations to help their kids with math at home, or reaching out to a teacher to say thank you.
Our community passed a critical bond measure that will allow our school district to keep improving and be a vibrant, top-notch institution.
Our students were the light through it all, never giving up and pushing to grow, learn and play whether in the classroom or through a screen.
All this speaks volumes about the Charlotte community and Charlotte Public Schools, who we are and what we are about. Throughout the ups and downs of this rollercoaster year, we all pulled together, worked hard, and prioritized what was important – our kids.
That indeed warrants smiles!
In fact, I couldn't be more optimistic about what the coming school year and future it holds. I urge our new and returning families to complete their enrollment for 2021-22 as quickly as possible. In the interim, enjoy your summer! Please do not hesitate to contact me with questions, concerns or to learn more about our district and its offerings!
Go Orioles! Oriole Pride!
Dr. Mandy Stewart- CPS Superintendent
Grow. Learn. Play. The Oriole Way.
378 State Street
Charlotte, MI 48813
517.541.5101 office
517.541.5105 fax
Business Hours
8:00 a.m. - 4:30 p.m. Monday -Thursday
8:00 a.m. - 4:00 p.m. Friday