Welcome to

Charlotte Public Schools

Charlotte is a community where black and orange "Oriole Pride" runs deep and where one of our best qualities is the collaboration and support between the community and school district.
Charlotte Public Schools is a vibrant and energetic district that prepares students for lifelong learning. Staff, student and community member passion for this district is what makes Charlotte Public Schools a point of pride.
The mission of the Charlotte Public Schools is to provide an excellent educational culture and learning environment which is safe, student centered and in collaboration with our parents and community. We aspire to ensure students are prepared with the academic competencies and social skills for successful futures and lifelong learning.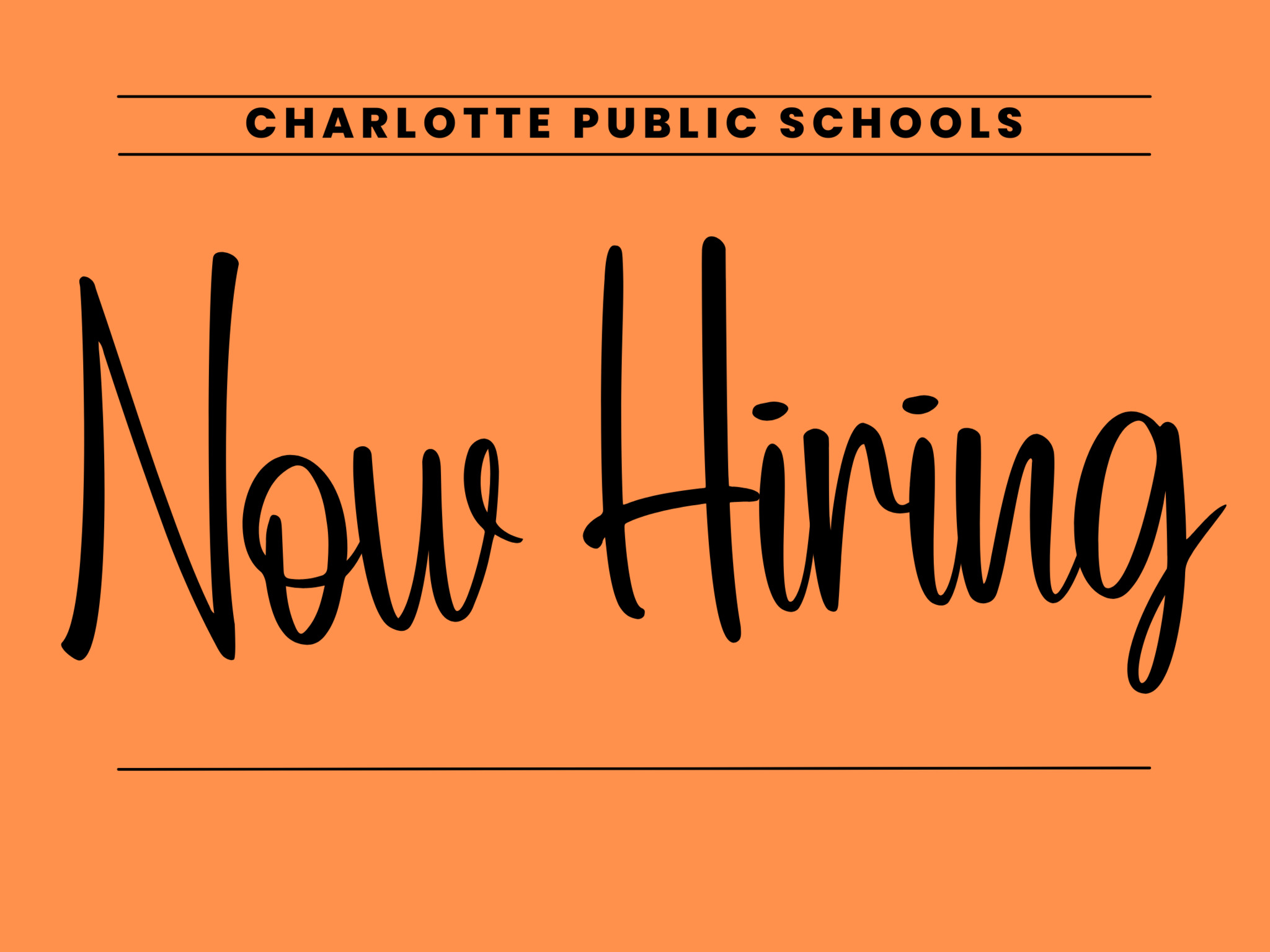 Upcoming Events
Charlotte HS BKB B FR Home Lansing Eastern High School

Location:

378 State Street Charlotte, MI 48813

Facility: CHS Dome FROM: 3:00 PM TO: 5:15 PM Visit https://orioleathletics.org/main/event/scid/MI4881372944/eventid/76535525 for more information!
Calendar
Calendar

Previous

December

2023

Next

S
M
T
W
T
F
S
1

Dec 1

4:00 PM to 7:00 PM

Charlotte HS BKB B FR Home Hastings HS

Location:

378 State Street Charlotte, MI 48813

Facility: CHS Dome FROM: 3:00 PM TO: 5:15 PM Visit https://orioleathletics.org/main/event/scid/MI4881372944/eventid/76751080 for more information!

5:30 PM to 8:30 PM

Charlotte HS BKB B JV Home Hastings HS

Location:

378 State Street Charlotte, MI 48813

Facility: CHS Dome FROM: 5:30 PM TO: 6:45 PM Visit https://orioleathletics.org/main/event/scid/MI4881372944/eventid/76751079 for more information!

7:00 PM to 10:00 PM

Charlotte HS BKB B V Home Hastings HS

Location:

378 State Street Charlotte, MI 48813

Facility: CHS Dome FROM: 7:00 PM TO: 9:30 AM Visit https://orioleathletics.org/main/event/scid/MI4881372944/eventid/76751078 for more information!

Click here to watch this event live!

2

Dec 2

8:00 AM to 11:00 AM

Charlotte HS WR B JV Away Lakewood HS (Scrimmage)

8:00 AM to 11:00 AM

Charlotte HS WR B V Away Lakewood HS (Scrimmage)

1:00 PM to 4:00 PM

Charlotte HS SW B V Away Cereal Bowl Relays @ Battle Creek Central

3

Dec 3

2:00 PM to 3:30 PM

(CPAC) In Motion Dance Toys for Tots Fundraiser

Location:

378 State Street Charlotte, MI 48813

Calendar:

Charlotte Performing Arts Center (CPAC)

4

Dec 4

4:30 PM to 6:30 PM

Charlotte MS BKB B 7 Home Lakewood Middle School

Location:

1068 Carlisle Hwy Charlotte, MI 48813

Calendar:

Middle School Athletics

Facility: CMS Main Gym FROM: 3:30 PM TO: 7:30 PM Visit https://oriolemsathletics.org/main/event/scid/MI4881370751/eventid/76505074 for more information!

4:30 PM to 6:30 PM

Charlotte MS BKB B 8 Away Lakewood Middle School ("A" team only)

Calendar:

Middle School Athletics

5:30 PM to 8:30 PM

CANCELLED: Charlotte HS BKB G JV Home Ovid-Elsie High School

Location:

378 State Street Charlotte, MI 48813

Facility: CHS Dome FROM: 4:30 PM TO: 6:45 PM Visit https://orioleathletics.org/main/event/scid/MI4881372944/eventid/76400539 for more information!

Click here to watch this event live!

7:00 PM to 10:00 PM

Charlotte HS BKB G V Home Ovid-Elsie High School

Location:

378 State Street Charlotte, MI 48813

Facility: CHS Dome FROM: 7:00 PM TO: 9:00 PM Visit https://orioleathletics.org/main/event/scid/MI4881372944/eventid/76400538 for more information!

Click here to watch this event live!

5

Dec 5

4:00 PM to 7:00 PM

Charlotte HS BKB B FR Away Fowler High School

5:00 PM to 8:00 PM

GW- Galewood Winter Wonderland

6

Dec 6

2 Hour Early Release for Students - Staff Professional Development

Middle School Boys Red Cedar Basketball Registration Begins

Calendar:

Oriole Recreation

4:30 PM to 6:30 PM

Charlotte MS BKB B 7 Away Fowlerville Junior High School

Calendar:

Middle School Athletics

Visit https://oriolemsathletics.org/main/event/scid/MI4881370751/eventid/76505085 for more information!

4:30 PM to 6:30 PM

Charlotte MS BKB B 8 Home Fowlerville Junior High School

Location:

1068 Carlisle Hwy Charlotte, MI 48813

Calendar:

Middle School Athletics

Facility: CMS Main Gym FROM: 3:30 PM TO: 7:30 PM Visit https://oriolemsathletics.org/main/event/scid/MI4881370751/eventid/76505084 for more information!

Click here to watch this event live!

6:00 PM to 7:00 PM

6:00 PM to 9:00 PM

Charlotte HS WR B JV Home Okemos High School

6:00 PM to 9:00 PM

Charlotte HS WR B V Home League Match vs. Okemos & Williamston

Location:

378 State Street Charlotte, MI 48813

Facility: CHS Dome FROM: 4:00 PM TO: 9:00 PM Visit https://orioleathletics.org/main/event/scid/MI4881372944/eventid/76152519 for more information!

Click here to watch this event live!

7

Dec 7

5:30 PM to 8:30 PM

Charlotte HS BKB B FR Home Lakewood HS

Location:

378 State Street Charlotte, MI 48813

Facility: CHS Dome FROM: 5:30 PM TO: 6:45 PM Visit https://orioleathletics.org/main/event/scid/MI4881372944/eventid/76008285 for more information!

7:00 PM to 8:00 PM

Location:

378 State Street Charlotte, MI 48813

Calendar:

Charlotte Performing Arts Center (CPAC)

7:00 PM to 10:00 PM

Charlotte HS BKB B JV Home Lakewood HS

Location:

378 State Street Charlotte, MI 48813

Facility: CHS Dome FROM: 7:00 PM TO: 9:00 AM Visit https://orioleathletics.org/main/event/scid/MI4881372944/eventid/76008283 for more information!

Click here to watch this event live!

8

Dec 8

7:00 AM to 8:00 AM

Board of Education Building and Grounds Subcommittee Meeting

Location:

378 State Street, Door 22

4:00 PM to 7:00 PM

CANCELLED: Charlotte HS BKB G JV Away Lakewood HS

5:00 PM to 7:00 PM

5:00 PM to 8:00 PM

Charlotte HS WR B JV Away Waverly High School

5:30 PM to 8:30 PM

Charlotte HS BKB G V Away Lakewood HS

7:00 PM to 10:00 PM

Charlotte HS BKB B V Away Lakewood HS

9

Dec 9

12:00 AM to 3:00 AM

Time: TBA -Charlotte HS WR B V Away Galesburg-Augusta Invitational

10:00 AM to 12:00 PM

Charlotte MS CHR G MS Away CCCAM Invitational @ St. John's H.S.

Calendar:

Middle School Athletics

10:00 AM to 1:00 PM

Charlotte HS CHR G V Away CCCAM Scholarship Meet @ St. John's

10
11

Dec 11

4:30 PM to 6:30 PM

Charlotte MS BKB B 7 Home Kenneth T. Beagle Middle School

Location:

1068 Carlisle Hwy Charlotte, MI 48813

Calendar:

Middle School Athletics

Facility: CMS Main Gym FROM: 3:30 PM TO: 7:30 PM Visit https://oriolemsathletics.org/main/event/scid/MI4881370751/eventid/76505099 for more information!

4:30 PM to 6:30 PM

Charlotte MS BKB B 8 Away Kenneth T. Beagle Middle School

Calendar:

Middle School Athletics

5:30 PM to 8:30 PM

CANCELLED: Charlotte HS BKB G JV Away Waverly High School

Visit https://orioleathletics.org/main/event/scid/MI4881372944/eventid/76414714 for more information!

6:00 PM to 7:00 PM

Board of Education Meeting

Located in CHS Media Center

Board Meeting Agenda Located At: 

https://www.charlotteorioles.com/board-of-education/

Join with Google Meet: https://meet.google.com/qxc-xcyx-aji Or dial: (US) +1 321-430-0165 PIN: 906359373# Learn more about Meet at: https://support.google.com/a/users/answer/9282720

7:00 PM to 10:00 PM

Charlotte HS BKB G V Away Waverly High School

12

Dec 12

4:00 PM to 7:00 PM

Charlotte HS BKB B FR Home Lansing Eastern High School

Location:

378 State Street Charlotte, MI 48813

Facility: CHS Dome FROM: 3:00 PM TO: 5:15 PM Visit https://orioleathletics.org/main/event/scid/MI4881372944/eventid/76535525 for more information!

5:30 PM to 8:30 PM

Charlotte HS BKB B JV Home Lansing Eastern High School

Location:

378 State Street Charlotte, MI 48813

Facility: CHS Dome FROM: 5:30 PM TO: 6:45 PM Visit https://orioleathletics.org/main/event/scid/MI4881372944/eventid/76535524 for more information!

7:00 PM to 8:00 PM

(CPAC) CMS/CHS Choir Concert

Location:

378 State Street Charlotte, MI 48813

Calendar:

Charlotte Performing Arts Center (CPAC)

7:00 PM to 10:00 PM

Charlotte HS BKB B V Home Lansing Eastern High School

Location:

378 State Street Charlotte, MI 48813

Facility: CHS Dome FROM: 7:00 PM TO: 9:30 PM Visit https://orioleathletics.org/main/event/scid/MI4881372944/eventid/76535523 for more information!

Click here to watch this event live!

13

Dec 13

12:00 AM to 2:00 AM

Time: TBA -Charlotte MS CHR G MS Away Gull Lake MS Winterfest Invitational

Calendar:

Middle School Athletics

4:30 PM to 6:30 PM

Charlotte MS BKB B 7 Away Eaton Rapids Middle School (Single game)

Calendar:

Middle School Athletics

Visit https://oriolemsathletics.org/main/event/scid/MI4881370751/eventid/76505112 for more information!

4:30 PM to 6:30 PM

Charlotte MS BKB B 8 Home Eaton Rapids Middle School

Location:

1068 Carlisle Hwy Charlotte, MI 48813

Calendar:

Middle School Athletics

Facility: CMS Main Gym FROM: 3:30 PM TO: 7:30 PM Visit https://oriolemsathletics.org/main/event/scid/MI4881370751/eventid/76505104 for more information!

Click here to watch this event live!

6:00 PM to 9:00 PM

Charlotte HS WR B JV Away Eaton Rapids High School

6:00 PM to 9:00 PM

Charlotte HS WR B V Away League Match vs. Holt & Eaton Rapids @ Eaton Rapids

14

Dec 14

5:30 PM to 8:30 PM

Charlotte HS BKB B FR Away Lansing Catholic High School

Visit https://orioleathletics.org/main/event/scid/MI4881372944/eventid/76008309 for more information!

6:00 PM to 9:00 PM

Charlotte HS SW B V Away Williamston High School

7:00 PM to 8:00 PM

Location:

378 State Street Charlotte, MI 48813

Calendar:

Charlotte Performing Arts Center (CPAC)

7:00 PM to 10:00 PM

Charlotte HS BKB B JV Away Lansing Catholic High School

15

Dec 15

9:30 AM to 10:30 AM

WA-November and December Student of the Month Celebrations

4:00 PM to 7:00 PM

CANCELLED: Charlotte HS BKB G JV Home Lansing Catholic High School

5:30 PM to 8:30 PM

Charlotte HS BKB G V Home Lansing Catholic High School

6:00 PM to 8:00 PM

Charlotte MS CHR G MS Away CAAC Scholarship Meet @ Mason H.S.

Calendar:

Middle School Athletics

6:00 PM to 9:00 PM

Charlotte HS CHR G V Away C.A.A.C. Scholarship Meet @ Mason H.S.

7:00 PM to 10:00 PM

Charlotte HS BKB B V Home Lansing Catholic High School

Location:

378 State Street Charlotte, MI 48813

Facility: CHS Dome FROM: 7:00 PM TO: 9:00 AM Visit https://orioleathletics.org/main/event/scid/MI4881372944/eventid/76007526 for more information!

Click here to watch this event live!

16

Dec 16

12:00 AM to 3:00 AM

Time: TBA -Charlotte HS WR B JV Away Mt.Pleasant HS (Mt. Pleasant Invite)

12:00 AM to 3:00 AM

Time: TBA -Charlotte HS WR B V Away Mount Pleasant Team Tournament

9:30 AM to 12:30 PM

Charlotte HS SW B V Away Mason Invitational

7:00 PM to 9:30 PM

(CPAC) Charlotte Community Band Concert

Location:

378 State Street Charlotte, MI 48813

Calendar:

Charlotte Performing Arts Center (CPAC)

17

Dec 17

3:00 PM to 4:30 PM

(CPAC) AFY Prelude Choir Concert

Location:

378 State Street Charlotte, MI 48813

Calendar:

Charlotte Performing Arts Center (CPAC)

18

Dec 18

WA- Washington Holiday Spirit Week

9:00 AM to 10:00 AM

WA- Candy Cane Day (wear red/white)

5:30 PM to 8:30 PM

Charlotte HS BKB B JV Away Stockbridge High School

Visit https://orioleathletics.org/main/event/scid/MI4881372944/eventid/76997889 for more information!

7:00 PM to 10:00 PM

Charlotte HS BKB B V Away Stockbridge High School

19

Dec 19

WA- Washington Holiday Spirit Week

9:00 AM to 10:00 AM

WA- Grinch Day- (wear green)

5:30 PM to 8:30 PM

CANCELLED: Charlotte HS BKB G JV Home St. Johns High School

Location:

378 State Street Charlotte, MI 48813

Facility: CHS Dome FROM: 4:30 PM TO: 6:45 PM Visit https://orioleathletics.org/main/event/scid/MI4881372944/eventid/76322023 for more information!

5:30 PM to 8:30 PM

Charlotte HS BKB B FR Home Bath High School (TENTATIVE)

6:00 PM to 9:00 PM

POSTPONED: Charlotte HS SW B V Away Coldwater High School

7:00 PM to 8:00 PM

Location:

378 State Street Charlotte, MI 48813

Calendar:

Charlotte Performing Arts Center (CPAC)

7:00 PM to 10:00 PM

Charlotte HS BKB G V Home St. Johns High School

Location:

378 State Street Charlotte, MI 48813

Facility: CHS Dome FROM: 7:00 PM TO: 9:00 PM Visit https://orioleathletics.org/main/event/scid/MI4881372944/eventid/76322014 for more information!

Click here to watch this event live!

20

Dec 20

(CPAC) Galewood DK Concert

Location:

CHS CAFETERIA, CPAC Auditorium, and CPAC BAND ROOM (High School and Performing Arts Building)

Calendar:

Charlotte Performing Arts Center (CPAC)

WA- Washington Holiday Spirit Week

9:00 AM to 10:00 AM

6:00 PM to 9:00 PM

Charlotte HS SW B V Away Coldwater High School

6:00 PM to 9:00 PM

Charlotte HS WR B JV Away Lakewood HS

6:00 PM to 9:00 PM

Charlotte HS WR B V Away League Match vs. Mason & Lakewood @ Lakewood

21

Dec 21

WA- Washington Holiday Spirit Week

9:00 AM to 10:00 AM

WA- Ugly Sweater/Holiday Shirt Day

4:00 PM to 7:00 PM

Charlotte HS BKB B FR Away Ovid-Elsie High School

Visit https://orioleathletics.org/main/event/scid/MI4881372944/eventid/76608770 for more information!

5:30 PM to 8:30 PM

CANCELLED: Charlotte HS BKB G JV Home Okemos High School

Location:

378 State Street Charlotte, MI 48813

Facility: CHS Dome FROM: 4:30 PM TO: 6:45 PM Visit https://orioleathletics.org/main/event/scid/MI4881372944/eventid/76321811 for more information!

5:30 PM to 8:30 PM

Charlotte HS BKB B JV Away Ovid-Elsie High School

Visit https://orioleathletics.org/main/event/scid/MI4881372944/eventid/76608769 for more information!

7:00 PM to 10:00 PM

Charlotte HS BKB B V Away Ovid-Elsie High School

7:00 PM to 10:00 PM

Charlotte HS BKB G V Home Okemos High School

Location:

378 State Street Charlotte, MI 48813

Facility: CHS Dome FROM: 7:00 PM TO: 9:00 AM Visit https://orioleathletics.org/main/event/scid/MI4881372944/eventid/76321800 for more information!

Click here to watch this event live!

22

Dec 22

Middle School Boys Red Cedar Basketball Registration Ends

Calendar:

Oriole Recreation

WA- Washington Holiday Spirit Week

9:00 AM to 10:00 AM

WA-Polar Express Day (Pajama Day)

7:00 PM to 9:00 PM

(CPAC) A Magical Christmas Extravaganza

Location:

378 State Street Charlotte, MI 48813

Calendar:

Charlotte Performing Arts Center (CPAC)

23
24
25

Dec 25

Winter Break - No School for Students

26

Dec 26

Winter Break - No School for Students

27

Dec 27

Winter Break - No School for Students

28

Dec 28

Winter Break - No School for Students

29

Dec 29

Winter Break - No School for Students

30
31