Welcome to Charlotte Public Schools
We welcome you and your child to the Charlotte Orioles family. We are committed to providing your child with the best possible education. Our team of dedicated, professionally-trained teachers and caring staff are here to support your child along their educational journey.
Technology-infused classrooms, an award-winning performing arts program, an athletic program that focuses on youth development and an exceptional staff inspire even our youngest Orioles...let us inspire your child too.
Step 1 - School enrollment form options
Online Request (This is a request for an electronic enrollment form to be sent to the email you provide)
-or-
-or-
Pick up an enrollment packet at 378 State Street (Door 20)
Step 2 - Gather Required Documents
Certified Birth Certificate

Parent/Guardian ID (Copy of any court order establishing the right of custody if registering adult is not listed on the birth certificate)

Current Immunization (shot) Record

2 Proofs of Residency (Driver's License, Voter Registration, Property Tax Statement, Mortgage/Home Closing/Lease Documents, Utility Bill)

Special Education Services Documentation if applicable

Hearing and Vision Screening & Dental Oral Assessment (first year students only)

Other documents/forms may be required prior to enrollment
Step 3 - submit required documents
Email our registrar at enrollcps@charlottenet.org
-or-
Visit us at 378 State Street (door 20)
NOTE: In order to provide the best transition for your child into Charlotte Public Schools, it may take up to two (2) school days for your child to be placed upon receipt of all enrollment paperwork.
DK and Kindergarten Age Requirement
If your child will be five (5) years old on or before December 1, 2023, they are eligible to enroll for the 2023-2024 school year in either a Developmental Kindergarten or Kindergarten classroom.
FREQUENTLY ASKED QUESTIONS
Commitment and Collaboration
Q: Why is Charlotte Public Schools the place for my children?
A: It may boil down to two words: commitment and collaboration. Both run deep and underscore what Charlotte Public Schools is about and what we promise to all those we serve.
CPS promises an unwavering commitment to our mission of providing an excellent educational culture and safe learning environment that is centered on each and every student. Staff has also worked tirelessly to find ways to maintain strong classroom and teacher connections regardless of the various circumstances or enhanced safety precautions.
Collaboration is at the heart of how our staff strive to operate every day, with a passion for our students to grow, learn, and play, every day.
Elementary Enrollment
Q: What elementary school will my child attend?
All DK and Kindergarten students attend Galewood Early Elementary School. Parkview and Washington Elementaries house our first through third grade students.
In general, students who live within the Charlotte Public Schools boundaries, north of Carlisle Highway and west of Lansing Road attend Washington Elementary.
Students who live on or south of Carlisle Highway and east of Lansing Road attend Parkview Elementary.
Anyone who lives close to the boundaries, should check with the Transportation Department at 517.543.3400 for accurate school determination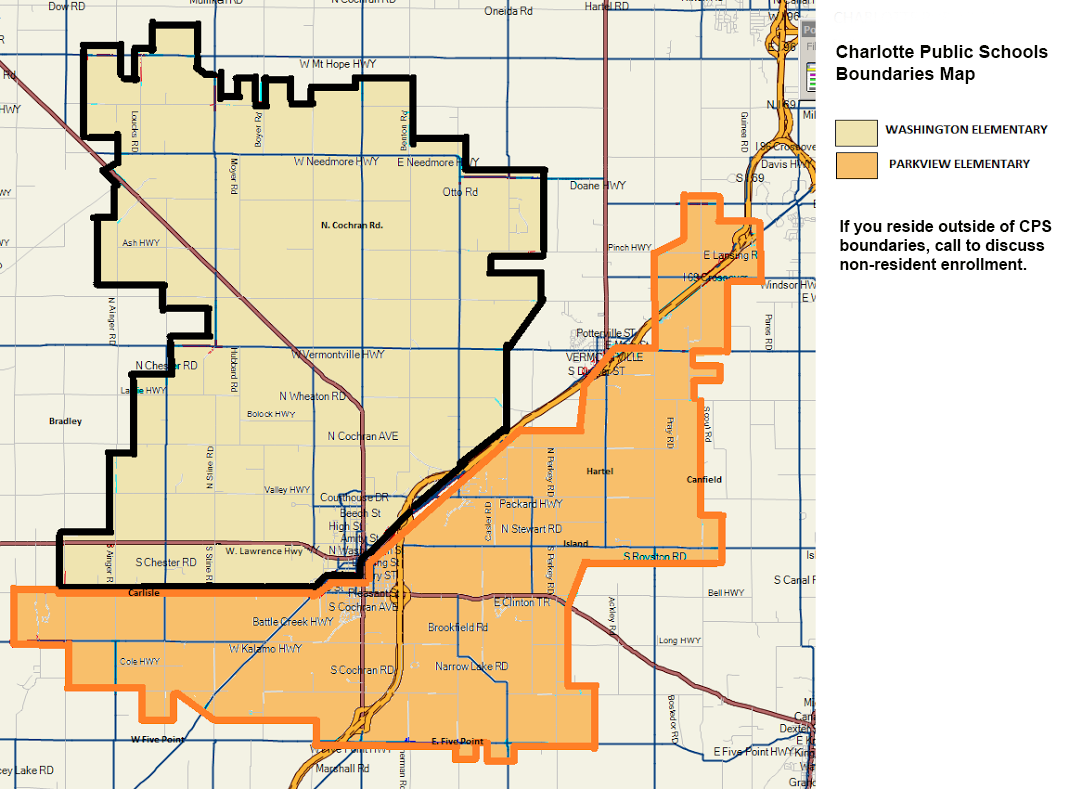 Health and Safety
Q: How is Charlotte Public Schools keeping students safe during the pandemic?
A: The health and safety of our students and staff is a top priority. Charlotte Public Schools is working hand-in-hand with health officials to ensure recommended best practices are implemented as they evolve and that our school district meets the various health and safety guidelines to mitigate the spread of COVID-19 for all in-person instruction and any extracurriculars.
Beyond mask wearing and utilizing social distancing practices whenever possible, some of these key steps include keeping our elementary classes and other students separate by cohorts, installing enhanced air filtration in our buildings and classrooms, and additional cleaning and sanitation measures.
In addition to our many mitigation measures, we also have been steadfastly tracking and reporting on cases through several means to ensure transparency every step of the way. We also collaborate at least weekly with our local health department partners to help inform all communications and decisions.
We also include regular COVID updates through email, phone calls, Friday folders and other correspondence or any time we're notified of a positive diagnosis among our students or staff.
Building for the Future/Ongoing Improvements
Q: What is Charlotte Public Schools doing to ensure a strong education that best prepares our students for successful futures – in career, college and life?
A: Our district provides a holistic approach to education aimed at developing the whole person and that matches their learning style, from early education to college prep and AP classes and to technical and vocational training.
Our early elementary school, two lower elementary schools, upper elementary school, and middle school, along with a high school and alternative programming, boast state of the art facilities with top notch teaching talent and staff. We've become a regional leader in STEM and the fine and performing arts too.
We're also thankful to our community for putting education first in Charlotte. A bond passed in November of 2020 will be instrumental in ensuring CPS can make the needed investments and upgrades to address both short and long term needs and continue to offer first-rate educational opportunities.
We're proud of what we have to offer to your student. Reach out and learn more today.
Q: How is Charlotte Public Schools planning to use the bond money to improve the district?
A: More than 80% of the bond dollars are allocated for improvements to instructional spaces, impacting students and staff on a daily basis. Another 18% is allocated to extra-curricular activity spaces with the remaining 2% for upgrades to the service center and new buses.
Detailed project design and planning are underway now with feedback from numerous stakeholder groups. Projects are organized by phases with many improvements of Phase 1 that will be taking place this summer and ready for our students to take advantage of by next school year.
This work is another way that Charlotte Public Schools is helping students grow, learn, and play. You can find out more and see the progress we're making by visiting our CPS Bond 2020 page.
The Galewood Story
We hope you enjoy watching this video and getting a glimpse into the day of our youngest Orioles at Galewood Early Elementary School.
Central Administrative Offices
378 State StreetGoogle Maps
Charlotte, MI 48813
517.541.5100 phone
517.541.5105 fax
Business Hours
8:00 a.m. - 4:30 p.m. Monday- Friday