Welcome to

Charlotte Public Schools

Charlotte is a community where black and orange "Oriole Pride" runs deep and where one of our best qualities is the collaboration and support between the community and school district.
Charlotte Public Schools is a vibrant and energetic district that prepares students for lifelong learning. Staff, student and community member passion for this district is what makes Charlotte Public Schools a point of pride.
The mission of the Charlotte Public Schools is to provide an excellent educational culture and learning environment which is safe, student centered and in collaboration with our parents and community. We aspire to ensure students are prepared with the academic competencies and social skills for successful futures and lifelong learning.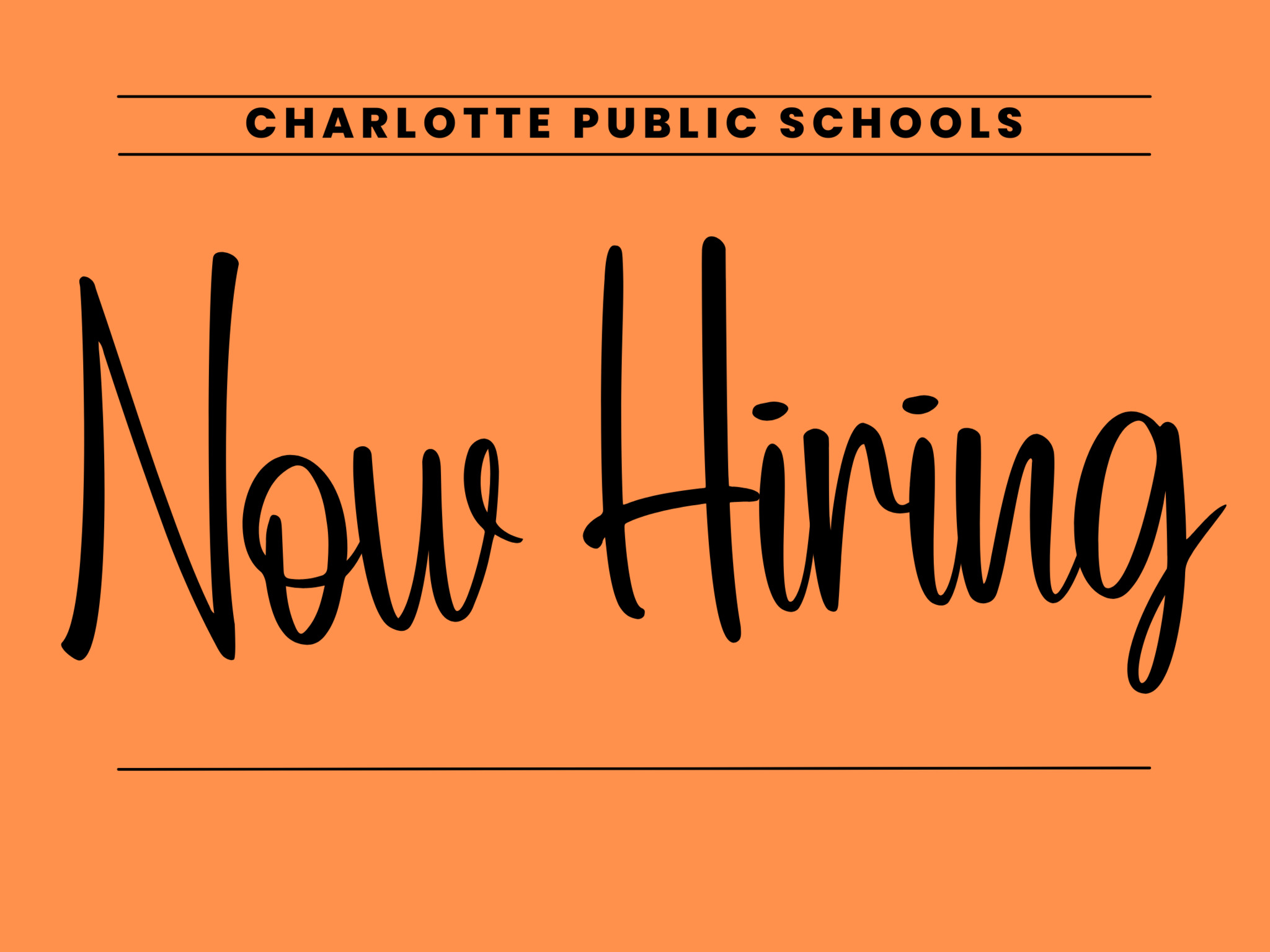 Upcoming Events
Potential School Make Up Day

Potential School Make Up Day

Potential School Make Up Day

Potential School Make Up Day

(CPAC) Cheryl's Gymnastics Rehearsal

Location:

CHS CAFETERIA, CPAC Auditorium, CPAC BAND ROOM, CPAC DRAMA RM, CPAC DRESS/MAKEU, CPAC LOBBY, and CPA

Calendar:

Charlotte Performing Arts Center (CPAC)

Charlotte HS GLF B V Away MHSAA State Finals @ The Fortress

Time:

9:00 AM to 11:00 AM
Calendar
Calendar

Previous

June

2023

Next

S
M
T
W
T
F
S
1

Jun 1

2 Hour Early Release for Students

7:00 AM to 8:00 AM

BOE Finance Subcommittee Meeting

Location:

Central Office Board Room - 378 State Street - Door 20

9:00 AM to 11:00 AM

Charlotte HS GLF B V Away MHSAA Regional @ Diamond Springs

3:00 PM to 10:00 PM

(CPAC) TDC Spring 2023 Recital Rehearsal

Location:

CHS CAFETERIA, CPAC Auditorium, CPAC BAND ROOM, CPAC CHORAL ROOM, CPAC DRAMA RM, CPAC DRESS/MAKEU, C

Calendar:

Charlotte Performing Arts Center (CPAC)

2

Jun 2

2 Hour Early Release for Students

1:45 PM to 1:55 PM

3

Jun 3

12:00 AM to 2:00 AM

Time: TBA -Charlotte HS TR C V Away MHSAA State Finals @ Forest Hills Northern

12:00 PM to 2:00 PM

Charlotte HS SB G V Away MHSAA Districts vs. Eaton Rapids @ ERHS

1:00 PM to 3:30 PM

(CPAC) TDC Spring 2023 Recital

Location:

CHS CAFETERIA, CPAC Auditorium, CPAC BAND ROOM, CPAC CHORAL ROOM, CPAC DRAMA RM, CPAC DRESS/MAKEU, C

Calendar:

Charlotte Performing Arts Center (CPAC)

2:00 PM to 4:00 PM

Charlotte HS SB G V Away MHSAA District Finals @ ERHS

5:00 PM to 7:30 PM

(CPAC) TDC Spring 2023 Recital

Location:

CHS CAFETERIA, CPAC Auditorium, CPAC BAND ROOM, CPAC CHORAL ROOM, CPAC DRAMA RM, CPAC DRESS/MAKEU, C

Calendar:

Charlotte Performing Arts Center (CPAC)

8:00 PM to 9:00 PM

Graduation Wharton Center

4
5

Jun 5

Potential School Make Up Day

6:00 PM to 7:00 PM

6

Jun 6

Potential School Make Up Day

7

Jun 7

Potential School Make Up Day

8

Jun 8

Potential School Make Up Day

9

Jun 9

Potential School Make Up Day

8:00 AM to 9:00 PM

(CPAC) Cheryl's Gymnastics Rehearsal

Location:

CHS CAFETERIA, CPAC Auditorium, CPAC BAND ROOM, CPAC DRAMA RM, CPAC DRESS/MAKEU, CPAC LOBBY, and CPA

Calendar:

Charlotte Performing Arts Center (CPAC)

9:00 AM to 11:00 AM

Charlotte HS GLF B V Away MHSAA State Finals @ The Fortress

10

Jun 10

9:00 AM to 11:00 AM

Charlotte HS GLF B V Away MHSAA State Finals @ The Fortress

2:00 PM to 4:00 PM

(CPAC) Cheryl's Gymnastics Recital

Location:

CHS CAFETERIA, CPAC Auditorium, CPAC BAND ROOM, CPAC DRAMA RM, CPAC DRESS/MAKEU, CPAC LOBBY, and CPA

Calendar:

Charlotte Performing Arts Center (CPAC)

6:00 PM to 8:00 PM

(CPAC) Cheryl's Gymnastics Recital

Location:

CHS CAFETERIA, CPAC Auditorium, CPAC BAND ROOM, CPAC DRAMA RM, CPAC DRESS/MAKEU, CPAC LOBBY, and CPA

Calendar:

Charlotte Performing Arts Center (CPAC)

11

Jun 11

2:00 PM to 4:00 PM

(CPAC) Great Lakes Learning Academy Graduation

Location:

CHS CAFETERIA, CPAC Auditorium, CPAC DRAMA RM, CPAC DRESS/MAKEU, CPAC LOBBY, and CPAC PARKING LOT (H

Calendar:

Charlotte Performing Arts Center (CPAC)

12

Jun 12

3:00 PM to 9:00 PM

(CPAC) Step N Time Dance Recital Rehearsal

Location:

CHS CAFETERIA, CPAC Auditorium, CPAC BAND ROOM, CPAC CHORAL ROOM, CPAC DRAMA RM, CPAC DRESS/MAKEU, C

Calendar:

Charlotte Performing Arts Center (CPAC)

6:00 PM to 7:00 PM

Board of Education Meeting (Regular)

Location:

Charlotte High School Media Center

13

Jun 13

3:00 PM to 9:00 PM

(CPAC) Step N Time Dance Recital Rehearsal

Location:

CHS CAFETERIA, CPAC Auditorium, CPAC BAND ROOM, CPAC CHORAL ROOM, CPAC DRAMA RM, CPAC DRESS/MAKEU, C

Calendar:

Charlotte Performing Arts Center (CPAC)

14

Jun 14

3:00 PM to 9:00 PM

(CPAC) Step N Time Dance Recital Rehearsal

Location:

CHS CAFETERIA, CPAC Auditorium, CPAC BAND ROOM, CPAC CHORAL ROOM, CPAC DRAMA RM, CPAC DRESS/MAKEU, C

Calendar:

Charlotte Performing Arts Center (CPAC)

15

Jun 15

3:00 PM to 9:00 PM

(CPAC) Step N Time Dance Recital Rehearsal

Location:

CHS CAFETERIA, CPAC Auditorium, CPAC BAND ROOM, CPAC CHORAL ROOM, CPAC DRAMA RM, CPAC DRESS/MAKEU, C

Calendar:

Charlotte Performing Arts Center (CPAC)

16

Jun 16

7:00 PM to 9:00 PM

(CPAC) Step N' Time Dance Recital

Location:

CHS CAFETERIA, CPAC Auditorium, CPAC BAND ROOM, CPAC CHORAL ROOM, CPAC DRAMA RM, CPAC DRESS/MAKEU, C

Calendar:

Charlotte Performing Arts Center (CPAC)

17

Jun 17

2:00 PM to 4:00 PM

(CPAC) Step N' Time Dance Recital

Location:

CHS CAFETERIA, CPAC Auditorium, CPAC BAND ROOM, CPAC CHORAL ROOM, CPAC DRAMA RM, CPAC DRESS/MAKEU, C

Calendar:

Charlotte Performing Arts Center (CPAC)

6:00 PM to 8:00 PM

(CPAC) Step N' Time Dance Recital

Location:

CHS CAFETERIA, CPAC Auditorium, CPAC BAND ROOM, CPAC CHORAL ROOM, CPAC DRAMA RM, CPAC DRESS/MAKEU, C

Calendar:

Charlotte Performing Arts Center (CPAC)

18
19
20

Jun 20

2:00 PM to 10:00 PM

(CPAC) Patsy Watson School of Dance Rehearsal

Location:

CHS CAFETERIA, CPAC Auditorium, CPAC BAND ROOM, CPAC CHORAL ROOM, CPAC DRAMA RM, CPAC DRESS/MAKEU, C

Calendar:

Charlotte Performing Arts Center (CPAC)

21

Jun 21

2:00 PM to 10:00 PM

(CPAC) Patsy Watson School of Dance Rehearsal

Location:

CHS CAFETERIA, CPAC Auditorium, CPAC BAND ROOM, CPAC CHORAL ROOM, CPAC DRAMA RM, CPAC DRESS/MAKEU, C

Calendar:

Charlotte Performing Arts Center (CPAC)

22

Jun 22

7:00 PM to 9:00 PM

(CPAC) Patsy Watson School of Dance Recital

Location:

CHS CAFETERIA, CPAC Auditorium, CPAC BAND ROOM, CPAC CHORAL ROOM, CPAC DRAMA RM, CPAC DRESS/MAKEU, C

Calendar:

Charlotte Performing Arts Center (CPAC)

23

Jun 23

7:00 PM to 9:00 PM

(CPAC) Patsy Watson School of Dance Recital

Location:

CHS CAFETERIA, CPAC Auditorium, CPAC BAND ROOM, CPAC CHORAL ROOM, CPAC DRAMA RM, CPAC DRESS/MAKEU, C

Calendar:

Charlotte Performing Arts Center (CPAC)

24
25
26

Jun 26

9:00 AM to 4:00 PM

CPAC Summer Musical Theatre Camp

Location:

CHS CAFETERIA, CPAC Auditorium, CPAC BAND ROOM, CPAC CHORAL ROOM, and CPAC LOBBY (High School and Pe

Calendar:

Charlotte Performing Arts Center (CPAC)

6:00 PM to 7:00 PM

Board of Education Meeting (Regular)

Location:

Charlotte High School Media Center

27

Jun 27

9:00 AM to 4:00 PM

CPAC Summer Musical Theatre Camp

Location:

CHS CAFETERIA, CPAC Auditorium, CPAC BAND ROOM, CPAC CHORAL ROOM, and CPAC LOBBY (High School and Pe

Calendar:

Charlotte Performing Arts Center (CPAC)

28

Jun 28

9:00 AM to 4:00 PM

CPAC Summer Musical Theatre Camp

Location:

CHS CAFETERIA, CPAC Auditorium, CPAC BAND ROOM, CPAC CHORAL ROOM, and CPAC LOBBY (High School and Pe

Calendar:

Charlotte Performing Arts Center (CPAC)

29

Jun 29

9:00 AM to 4:00 PM

CPAC Summer Musical Theatre Camp

Location:

CHS CAFETERIA, CPAC Auditorium, CPAC BAND ROOM, CPAC CHORAL ROOM, and CPAC LOBBY (High School and Pe

Calendar:

Charlotte Performing Arts Center (CPAC)

30

Jun 30

9:00 AM to 4:00 PM

CPAC Summer Musical Theatre Camp

Location:

CHS CAFETERIA, CPAC Auditorium, CPAC BAND ROOM, CPAC CHORAL ROOM, and CPAC LOBBY (High School and Pe

Calendar:

Charlotte Performing Arts Center (CPAC)

7:00 PM to 8:00 PM

CPAC Summer Camp Final Performance

Location:

378 State Street Charlotte, MI 48813

Calendar:

Charlotte Performing Arts Center (CPAC)